"It is very important to know that at Consors Finanz we are helping to move towards green mobility"
Consors Finanz aims to reduce its environmental footprint by promoting green mobility among its employees. Discover the testimony of Pauline Zettier, on the occasion of Mobility Week!
My name is Pauline Zettier and I have been with Consors Finanz BNP Paribas Personal Finance for almost 6 years. Since April this year I have been leading the newly created Engagement Team. Together with my team, we are driving forward all Sustainability issues linked to the Manifesto including Corporate Social Responsibility topics.
Consors Finanz aims at having a neutral impact on the environment, first internally, by helping employees to adopt a greener mobility.
Sustainability is increasingly becoming a key part of day-to-day business within Consors Finanz. Based on the BNP Paribas Personal Finance Manifesto, our goal is to further reduce our own carbon footprint.
Green mobility can help us in many aspects in this context:
We subsidize our employees' public transport ticket in order to motivate them to leave the car in the garage.
We also support bike leasing options and the BNP Paribas WeBikeForNature challenge.
In addition, our car fleet includes more and more vehicles with alternative drive systems.
Our new travel policy states that business travel should only be undertaken if it cannot be replaced by video conferencing and trains should be preferred to flights whenever possible.
The Mobility Week is another great opportunity to inspire and motivate even more people to take up the offers.
Leasing a bike is very easy – and a 100 % digital process: The employee looks up information about bike leasing on the JobRad website or at the bike dealer and asks for an individual leasing offer. Afterwards, the employee registers on the JobRad portal, and our company gives the approval. Once the contract has been successfully concluded, the monthly leasing fees are deducted from the employee's salary. The monthly allowance paid by Consors is 23€.The final cost of the bike rental depends on the type of bike chosen by the employee. For exemple for a standard bike the monthly cost for the employee is less than 15€.
For more than a year, we have been supporting the health of our employees through the bike leasing program and also making a positive contribution to protecting our environment. The company also pays the annual inspection and service fee for the leased bike, so that everyone is safe on the road at all times. So far, over 125 colleagues have taken advantage of this offer – and the feedback has been overwhelmingly positive.
"A great offer from Consors Finanz, which made it easier for me to buy a bike that I probably wouldn't have bought otherwise. Especially in these times, exercise is important for me and with this bike it's just even more fun. Every time I see it and sit on it, I have a smile on my face and I am happy."
Dirk Könen – Deputy CEO B2C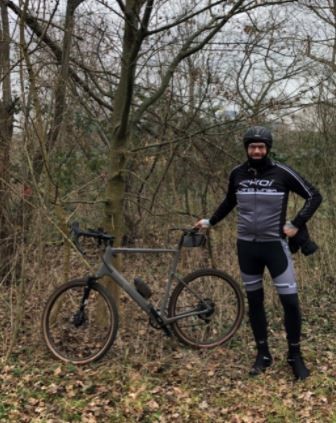 Our ultimate goal is to further reduce our carbon footprint and to continually examine processes within the company and make them more sustainable. This also applies to our electric car fleet.
28 colleagues are already taking advantage of the offer. We distinguish between purely electric vehicles and hybrid vehicles, which are used even more. 40% of the vehicles that are newly ordered have an alternative drive.
Of course, our colleagues can use the vehicles for both business, but also for private purposes! Going on vacation with an electric car is possible without any problems in many parts of Europe. Many electric cars, including those in our car fleet, offer ranges of more than 500 kilometers. More than 200,000 charging points are already available throughout Europe.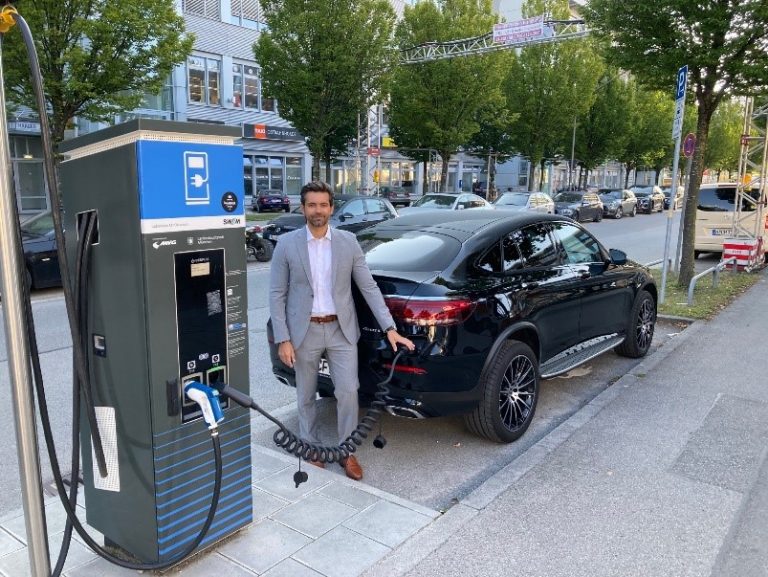 "I drive a hybrid vehicle because it is important to me to drive about half of the distance purely electrically."
Manuel Ivanjak – Head of Business Development and Marketing
First, we will definitely keep the offers, which is also confirmed by the positive feedback from our employees. We constantly improve our services to remain attractive for employees.
At our locations in Duisburg and Munich, we will provide eight car parking spaces with electric charging stations. This is a benefit with which we want to further advance green mobility and is part of our basic understanding as an attractive and responsible employer.
Secondly, we are increasingly moving our focus toward sustainability. It is important for us to communicate the offers from Consors Finanz externally and internally in order to raise awareness at all levels. One example: Last year, we did a comprehensive communication campaign with AFS (Automotive Financial Services). The aim was to push the sale of vehicles with alternative drives.
Do you have a last word to conclude?
I am convinced that the current situation will further inspire countries and companies to rethink.
In terms of mobility, I think the street landscape will continue to change: our customers and employees will use more electric vehicles or shared driving options. The fact that our colleagues have the opportunity to work remotely and benefit from attractive and flexible company conditions is a game changer!
In addition, more and more cities turn into bike-friendly places and expand their public transport networks to further foster a real change of urban mobility.
Ultimately, it is very important to see that we at Consors Finanz can make a contribution. There's is more potential, and everyone needs to cooperate to make a difference.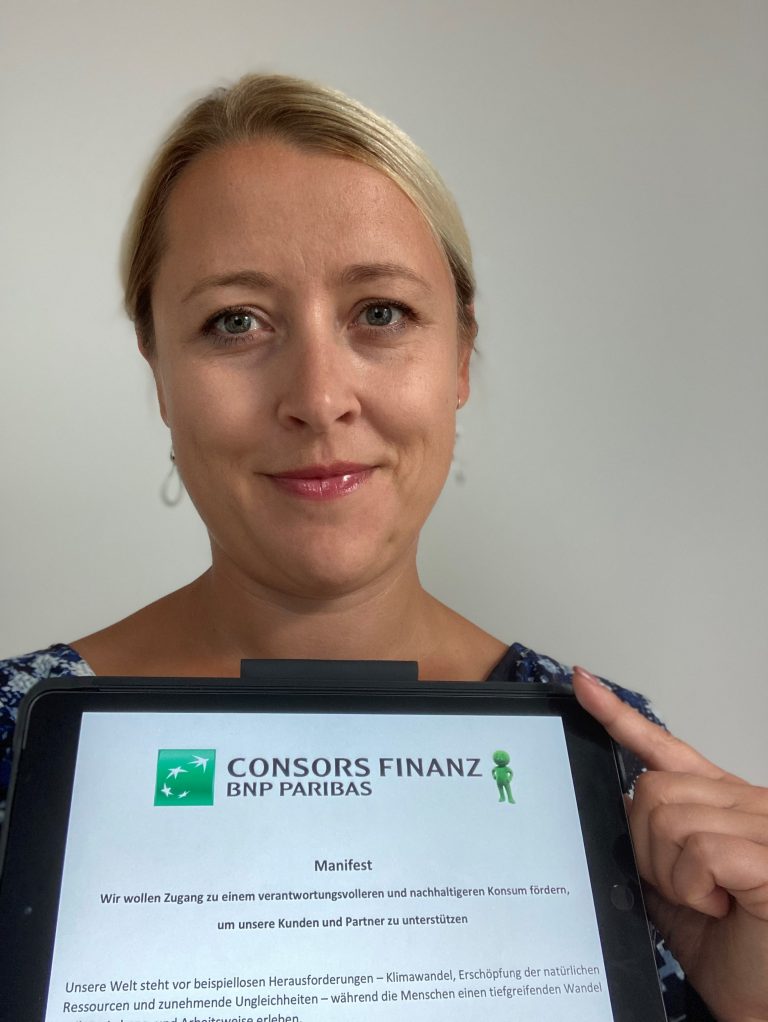 #PositiveImpactStartsWithMe