"Employees need to be bold!" Christine talks about intrapreneuring and Tilia, her project providing support for careers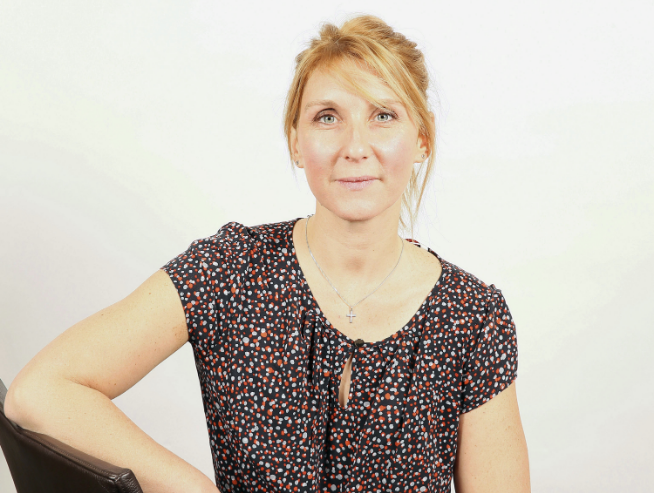 In France, more than 11 million people provide daily care for a relative with diminishing independence. The average age of these carers is 52 and it is sometimes difficult for them to reconcile a career and their personal life while fulfilling their care-giving role. Fortunately, a number of solutions have emerged to help organise the daily support required, and the Tilia app is undoubtedly the most comprehensive of them all.
Christine Lamidel has worked in the BNP Paribas Group for more than 20 years and she joined the Group's intrapreneuring programme, known as IFS Alpha, in November 2017. This programme calls on intrapreneurs the world over to develop new financial and non-financial services to help clients in a changing society.

In October 2018, Christine's project was selected by BNP Paribas Personal Finance and she joined the company to develop and market her application designed to offer support for carers. Since then, she has played a special role in the company. Interview.
Hello Christine, could you tell us about your work in the BNP Paribas Group before you created Tilia?
Hi! I've worked in the BNP Paribas Group for 22 years. I've mainly held positions in marketing, communication and digital, in the Group's various entities.
So could you tell us what Tilia is?
Tilia is an aggregation platform available as tablet and smartphone app. Paired with a human assistant, it can give family carers a bit of a breather and make their task easier. A team of assistants works around the clock, seven days a week to inform and advise carers and help them find service providers to visit a relative with diminishing independence.
The service has been designed to make ageing easier and help people go on living in their own homes. It is for anyone who takes care of a relative, providing support to help them stay at home, but at this stage of our development, Tilia mainly targets carers of elderly people who remain at home to delay retirement home placement, for example.
How did you get the idea?
Our team noticed a couple of things. The first echoed my own experience. I helped take care of my grandmother but, more importantly, I saw my parents take on the lion's share of the task, which was exhausting for them. I saw how time-consuming it was and, when you work, when you still have your career and personal life to manage, on top of the role of carer, it's very difficult.
Secondly, it is a real source of anxiety. In France, the average distance between a carer and their parents in 220 km. When you don't live close by, not knowing who is going to visit your relative, especially when they are elderly and dependent, makes things even harder. We thus came up with a service that offers reassurance as it sends carers real-time information on the service providers involved and gives feedback.
In your view, how can digital technology help organise and optimise personal care?
The average age of carers in France is 52. Those people are still at work and have children to look after. They don't necessarily have time during office hours to sort everything out. The app sends push notifications to keep the carer informed. It's reassuring. We also came up with a chat function, so users can message an assistant directly to obtain all the support required, all day long. If I'm in a meeting, for example, I don't need to go out to make a call. I can send messages via the chat and get the information I need – finding out if the nurse has been and if the right care has been given, things like that. The app frees up time for users while providing reassurance.
How did you manage to ally digital technology with the human touch that is vital in personal care?
We opted for a digital solution because we realised that most administrative tasks have to done during office hours. The app is the best way of getting things done in just a few taps on the screen. For me, the digital solution was essential, but of course the human aspect is also maintained – mainly through the assistant. People are at the heart of the project.
How did you submit your project to BNP Paribas Personal Finance and get their interest?
Jacques d'Estais, the Deputy CEO and Head of International Financial Services of the BNP Paribas Group, was looking for activities that could generate extra revenue but fell outside the scope of existing activities and pure business services. So in summer 2017, the IFS Alpha incubator was launched to find new business models for the bank.
Following this call for proposals, I worked with my colleagues Olivier Martin dit Neuville and Bertrand Bussière to submit our 'ageing well' project. Of the 82 projects entered, 12 were short-listed and presented to the IFS judging panel. Then, six were selected for a six-month trial within the incubator. We got the official go-ahead at the end of those six months. Our app had been delivered so we were able to proceed with roll-out of the service. That was when I met Renaud Dumora, CEO of BNP Paribas Cardif and Laurent David, CEO of BNP Paribas Personal Finance, to continue developing Tilia.
Why do you think you were chosen?
We all know our population is changing. According to INSEE's figures, a third of the population will be over 60 by 2050. There is a crucial need for support for this ageing population and our approach fits well with the Bank's process of diversification and support. That's why our project stood out from the others. Ours was one of the rare projects to focus on the elderly, and the only one selected. We are the bank for a changing world and our world is affected by demographic changes. We have to do something.
How did BNP Paribas Personal Finance help you and how are they supporting you now?
Laurent David expressed his interest several times. He told me that, on a human level, he was extremely interested in the project. It was a good way of diversifying our offering. At BNP Paribas Personal Finance, the partnership and entrepreneurial cultural seemed to fit well with Tilia.
Today, I have a team of nine people assigned to worked with me to market Tilia. We have been able to test our hypotheses while maintaining our agility and the way we worked within the incubator, which was vital for us.
Personally, how does it feel to know that the company you work in supports you with your personal projects?
I specifically designed the service for the Group. I've worked here for 22 years and I'm proud of that, and the project was originally put forward with an eye to improving and enhancing the client experience. We submitted an idea that met a need that wasn't then covered, and it means we remain present at every stage in our clients' lives (managing budgets, mortgages, personal loans and so on).
It was my situation as a carer that helped me identify the need. In the end, it was a combination of all that that helped the project come to light.
A final word for creative employees who would like support for their project from BNP Paribas Personal Finance?
Employees need to be bold. They should move out of their comfort zone, experiment and not just stick to their job. Be agile and show that you can switch from one subject to another. Nothing is set in stone, dare to take a new direction and try out something new.