"I wanted to experience surpassing myself at every level!"
Last November, Claire had an unusual experience. She flew straight to the Moroccan desert as part of the Trek'in gazelles, a solidarity, eco-responsible and 100% feminine walk, concentrated on 4 intense days!
Can you introduce yourself please?
My name is Claire CIMATTI, I work in Corporate Finance at BNP Paribas Personal Finance, in Management Control, and in Mérignac. I am in a team of 3 employees and our business consists in the assessment and management of weighted risks that enter the solvency ratio of Personal Finance. We are part of a larger team whose other part is based in Paris and is in charge of the cost of risk. 
Can you explain to us what is the Trek'In gazelles?
The Trek'in gazelles is a 4-day orientation race in the Moroccan desert, carried out by a team of 3 women. It's a 100% women's race. In the old way, that is to say without a device containing a GPS, and only with the help of a compass, a Breton reporter, rules and maps, the teams have to find their way in the desert. This race is organized by the company Maienga, which is also at the initiative of the Rallye des gazelles (a women's automobile race in the desert), for more than 30 years.
There is also the eco-responsible aspect at the heart of this initiative. Indeed, throughout the trek, we collected the waste that we put in a bag to clean the desert. And in fact, we realized that there was a lot of waste in places, especially on the trails where camels pass, which surprised us. In particular, many cans of iron sardines were found. In addition, the solidarity aspect is inherent in the concept: all bonus points that the teams obtained thanks to the points reached were converted into donations and donated to the Secours Populaire, partner association, at the end of the trek.
In addition, the Maienga leader also manages the Cœur des Gazelles association, which works directly with the Moroccan population through the construction of schools or wells, a medical caravan that accompanies events, etc. For this event were given 2 armchairs for the disabled for example.
What is the organisation of the Trek'in gazelles?
The Trek'in gazelles is 80 people, French and Moroccan combined, who accompany the 100 teams of participants. A giant bivouac is installed in the Moroccan desert for the duration of the trek. It was a base camp that we joined every day after the stage, to have dinner, shower and sleep.
We had a medical team, podiatrists and masseurs on site.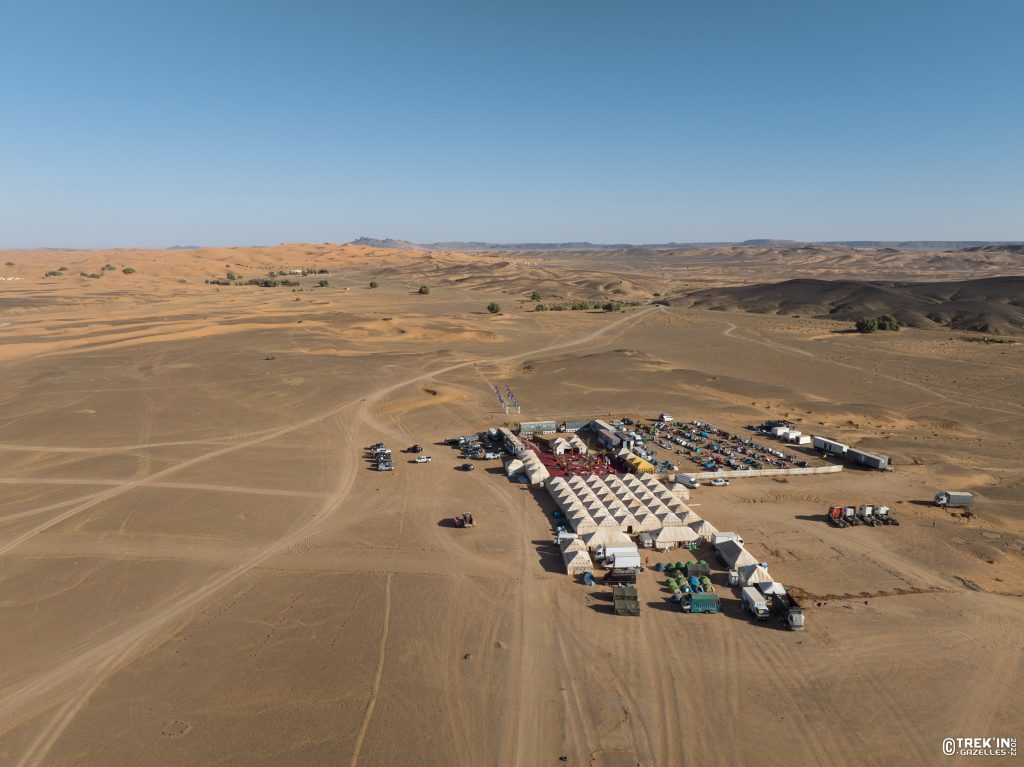 Where did you get the idea to participate in Trek'in gazelles?
I walk a lot and while going to do my shopping one evening, I came across a friend who told me that she had registered for the Trek in gazelles with 5 other friends to form 2 different teams. I had never heard of it. She explained to me that it is a women's march in the Moroccan desert whose goal is to cover about 20 kms each day. Being a big fan of hiking, it immediately attracted me, especially since I've always dreamed of visiting the Moroccan desert!
My friend told me about two women of her entourage (whom I had already met once or twice) who planned to form a team to participate and who happened to be looking for a third team member. I admit I wasn't I was ready to do it at first. As a mother of 3 older children, I didn't want to reduce my vacation time with my family and hesitated when I thought of the budget. Finally, I decided to start! So we registered and got together to organize in December.
Can you describe to us a typical day during the trek?
Every day, we walked about 20 kms. The alarm clock was set at 5:30, in music and good mood. At 6:00 we had our breakfast and then we had an appointment at 6:30 for the general debrief and instructions for the day. At 7:15, we were doing a sports warm-up in front of the dunes with a yoga teacher. It was really very pleasant, we watched every morning the sunrise on the dunes. It will remain my favorite moments I think. After making our bags for the day, comprising 3 liters of water and the beacon allowing us to follow and measure our trajectories, we left in groups with staggered departures every 3 minutes between 7:30 am and 8 am.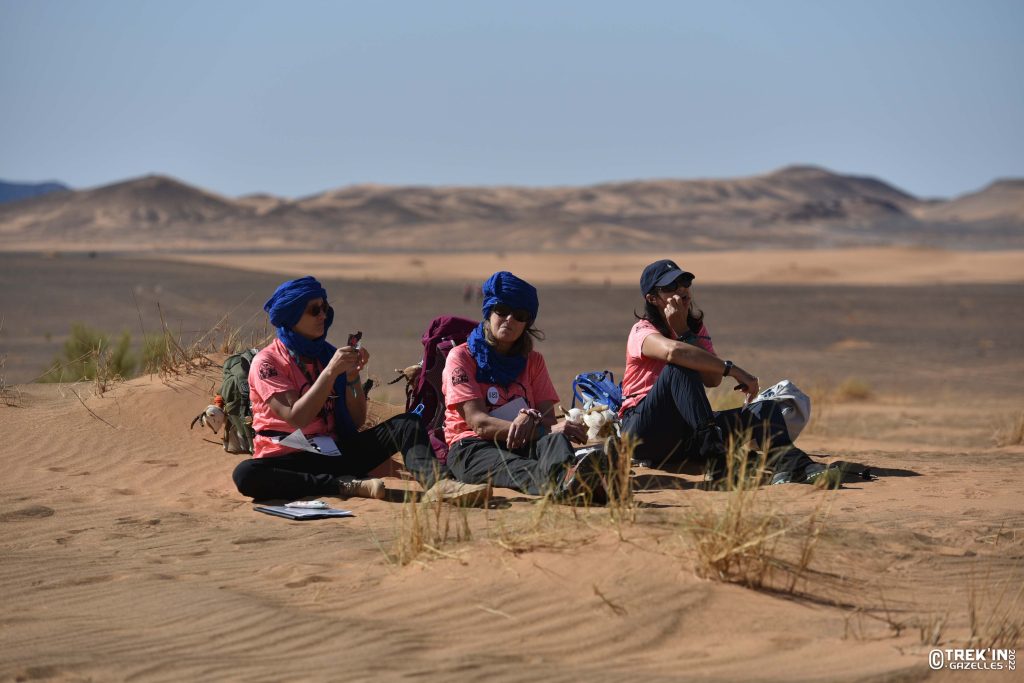 In one day, we had to reach 4 or 5 points of mandatory stages (CP mandatory), 2 of which with a refueling. We usually had lunch in check points (CP). A team of chiropodists was also present in case of injuries, blisters, or foot pain due to walking. The goal was to take the most direct trajectory possible to get as many points as possible.
Between each mandatory CP, we could look for optional points, bonuses, to find in the desert. We could find them using the heading provided and a photo hint to help us identify the point (there was no one or flag to make sure we were in the right place). The bonuses yielded more or less points depending on the level of difficulty.  The caps of the following bonuses were communicated to us at each mandatory CP.
We often went back to the bivouac around 18:30 shortly before sunset. We posted our mark-up for the points and recovered the roadmap for the next day (5 mandatory CP and bonus points to go to CP 1). In the evening, we had little time to shower, put the dots on the cards, define our strategy for the next day and have dinner. The days were very dense.
About the strategy, what was interesting was that each team had its own objective, some targeted the ranking, but others, like us, were looking for the improvement of navigation and enjoying the beauty of landscapes… It was above all a human adventure.
What motivated you to participate in Trek'in gazelles?/how did you hear about it?
The starting point of my decision: Morocco. I have always dreamed of going to the desert. The sporting challenge also motivated me. I had this will to test my limits, to push myself and see what I was capable of. The fact that the Trek is made by female only also motivated me, I admit. It's a special atmosphere and I was convinced that I would share exceptional moments with great women!
How to prepare yourself?
I have always been in the habit of walking, especially in the middle of nature, and especially in the mountains, but I knew that it was necessary to prepare well before embarking on such an experiment.
With my team, we organized weekend walks. We are fortunate to live relatively close to each other and next to the Dune du Pyla. It was ideal to put yourself in conditions close to those of the Moroccan desert. As we soon found out, walking on flat ground and in sand is not at all the same thing.
So we hiked about 16 kms on a regular basis. Maienga, the company at the initiative of the Trek'in gazelles, organized a preparatory course of navigation in Avignon, mandatory for women who have never participated in the Trek. We were 9 to participate, 3 teams of 3. And honestly, this workshop was a revelation! The race was not only a physical challenge, but it was necessary to develop orientation skills! Even before we started the experiment in Morocco, we were able to develop real cohesion and a very good understanding.
In your opinion, does it take experience in walking/sport to be able to participate in the Trek'in gazelles?
Not necessarily. Of the 9 participants, each had a different level. Some were experienced (and participated in the Trek in order to win), while others had no particular experience, neither in navigation nor in running, and it worked very well. Some women even had knee problems, but each team adapted and went at its own pace. In mine, for example, we were all on the same wavelength and adapted our rhythm to that of the one who had a tendinitis from the 2nd day and knew how to finish the race despite everything! We didn't particularly try to rank but rather to enjoy the experience and live it to the fullest!
Your experience in 3 words:
Emotional

Intense joy

Discovery!
What survival equipment did you have to take from your backpack?
Before leaving for Morocco, we had to equip ourselves properly. A list of equipment to buy was sent to us by Maienga:
A tent

A medical kit (antibiotics, medicines, which we gave to the association Cœur de Gazelles at the end of the trek, when we had not used them, which was my case)

A 0°C sleeping bag

Some ski goggles in case of a sandstorm

A cap

A pair of gloves

Toilet paper, etc.
Did you encounter any particular difficulties during the trek?
My difficulties were not at all physical, despite the extremely high temperatures during the day (up to 40°C).  Finally, with my team, we had not realized how difficult it was to navigate in the wilderness, without a phone or electronic device, knowing that none of us had any experience in this field
Also, getting along and trusting each other was a real challenge. Because we all had very different characters and in such an experience, personalities are revealed. One of us was rather dirigiste in nature, she liked to make decisions, which could create tension when we couldn't agree..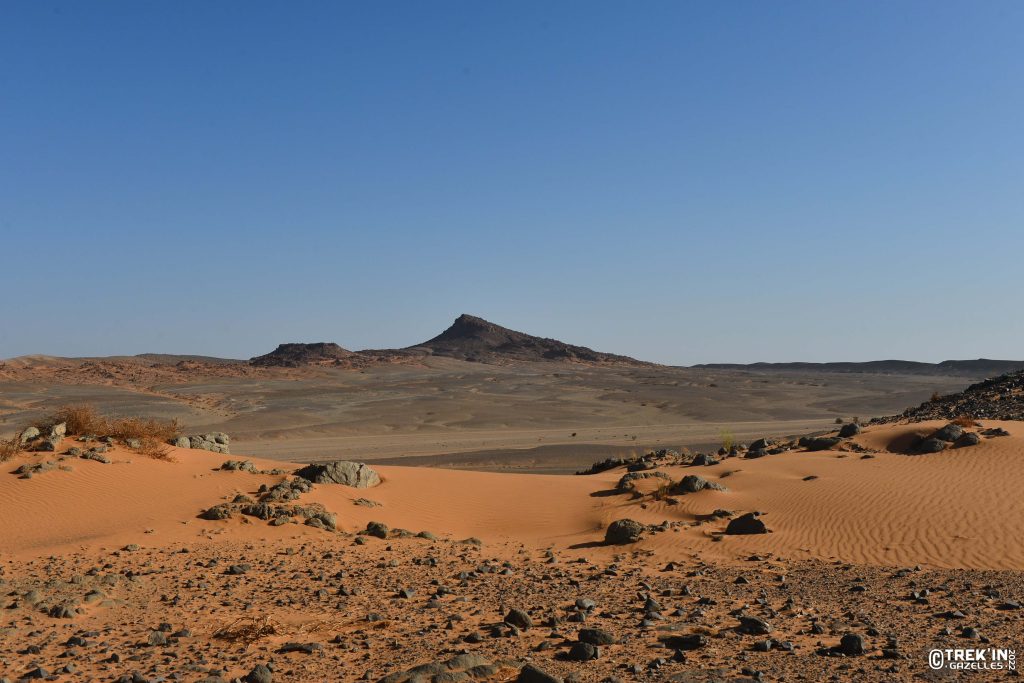 For my part, my temperament was more reserved and I rather took a step back, so it could be a little difficult for me to impose. The third woman in my team seemed at first glance confident (she is a member of the Executive Committee of a large company) and finally had a lot of trouble trusting. During these 4 days, we have evolved and learned to really trust each other. Our roles changed and the last 2 days of the trek, it was me who led the course!
What you learned from this experience:
This experience was a revelation for me. I realized how important communication is, and even more important, within a group. Surpassing oneself is a notion that I have truly understood and experienced. I also learned to impose myself and trust myself, to follow my instinct.
So, challenge accomplished?
We can definitely say it! We realized our challenge by progressing throughout the trek. We all passed and had an incredible experience!
The final word?
One thing is for sure, I will go on an adventure and trek again! Not necessarily in the same format, rather to push my physical limits, change my scenery completely but always well accompanied! And above all, I hope I have made everyone who has followed me on the live!