Domofinance, the specialist in energy transition in housing
Domofinance, the specialist in energy transition in housing, reaches €1.5 billion in outstanding in 2022!
At BNP Paribas Personal Finance, being as close as possible to our customers to support them towards more responsible and more sustainable consumption is part of our raison d'être.
It is above all a reality, embodied in particular by Domofinance,, a subsidiary of EDF and BNP Paribas Personal Finance, and the only financial institution in France totally dedicated to financing energy renovation and home improvement works.
Let's discover this nugget through the voices of four of its collaborators. For this first episode, let's start with Marion Longchambon, Managing Director of Domofinance.
The activity is experiencing strong momentum and exceeded 1.5 billion euros in outstanding in 2022.
As Marion Longchambon, CEO of Domofinance, points out, the good results of Domofinance can be explained in particular by:
Strong positioning of EDF on the heat pump market
Massification of public aid for renovation
Global awareness of individuals on energy issues
Recent climate events remind us of the urgency to act to reduce our CO2 emissions. By promoting a less energy-intensive habitat, we work every day to meet these environmental challenges.
In 2021, Domofinance financed more than 41,000 renovation projects!
Let's focus on the sales aspect and the products through the testimonials of Sébastien Dubar and Alexandre Pourchet.
Domofinance's business model is intermediated at 90% which means based on a BtoBtoC approach with a strong network of partners. The regional sales managers covers the French territory in order to be closer to partners.
These partners offer Domofinance's loans to their end-customers, thus enabling them to finance renovation work on their homes, for example: insulating the walls, installing a heat pump or even photovoltaic panels.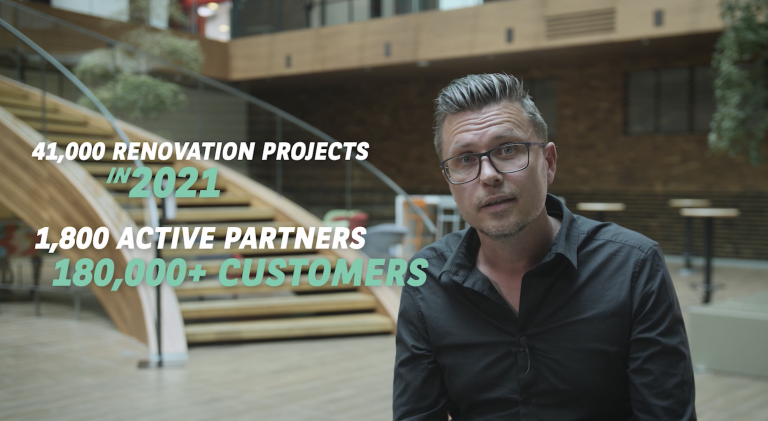 Some loans are subsidized by EDF – that is to say that EDF bears part of the cost of the loan – as well as a customer bonus, also paid by EDF.
Beyond supporting individuals, Domofinance also has a team dedicated to condominiums. It accompanies property managers and co-owners in order to finance energy renovation works that are often very expensive, but allow a significant reduction in the carbon footprint.
Only two financial establishments in France have positioned themselves on this market.
Domofinance: 3 activities, 110 employees and + 1800 partners…
A large part of the Domofinance workforce is hard at work in the Operations and Commercial Center in Rouen, where the teams handle all day-to-day activity, serving all partners and customers.
As Philippe Lesaint explains, the fact of grouping the operational activities within the same site makes it possible to concentrate the expertise specific to this sector of energy renovation, in particular the mastery of its regulations.
The teams are divided into two areas:
distribution: which manages the granting of loans in particular
diversification: which supports customers and partners throughout the life of the loan.
Its 110 employees, in collaboration with its network of 1,800 partners, work every day to reduce the environmental impact of French housing.